ES1/DH1 End of Season Party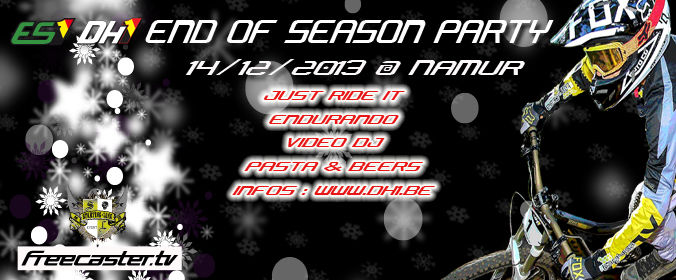 DH1 End of Season Party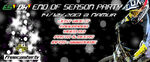 It's time to end the season with rides, rides and more rides, party, party and more party !!!
Starting Line and Freecaster are offering you a great day @ Namur Citadelle :
In the morning and the afternoon, you'll have the choice to ride Downhill or Enduro. The enduro is available for 40 bikers maximum (Endurando with 4 groupes of 10 riders, big foodstation at the middle of the course). For the Just Ride it : No limit of bikers, Lift will be organized as usual.
After a warm shower the party will start with the apero and some BIGBIKE videos projections. Then it will be time to eat and to celebrate the end of season in a great way. After the pasta party, videos from the Lotto DH1 2013 Season will be broadcast on a large led screen. And if you're in order with your pre-registration, we will make our best to find and broadcast images of YOU !
More DJ Party and BigBike Videos untill the end of the nigh and if you wish to sleep over, no problem but take your mattress and sleepingbag
DATE : 14/12/2013 from 10 am to ....
LOCATION : Ecole Hotelière, Avenue de l'Hermitage 7 - 5000 Namur
!!! PRE-REGISTRATION OBLIGATORY !!!
PRICES :
- Just Ride It : 15 euros (payment at the lift)
- Endurando : 8 euros (payment at the start)
- End of Season Party : 15 euros for food and OPEN BAR (pre-payment obligatory)
- KIDS : 7,50 euros (no need to make a reservation, payement has to be done at the party)
- Drinks Only : 1,5 euros / drinks
Saturday:
- From 10:00 to 16:00 : Just Ride It
- From 10:00 to 16:00 : Endurando
- From 16:00 to 17:00 : Showers
- From 16:00 to 18:00 : Apéro
- From 17:30 to 18:30 : BIGBIKE Video Projection
- From 18:00 to 20:00 : Pasta Party
- From 20:00 to 23:59 : DH1 Video Projection and DJ Party
Latest Videos
Race participants: 106
Name
Race
Evening Party
Evening
Payment Status
1
Glineur Sébastien
Endurando
No
2
Lecomte Hadrien
Endurando
No
3
Cardone David
Just Ride It
Yes
4
Bortels Christophe
Endurando
No
5
Hendrickx Esteban
Endurando
No
6
Neerinck Stanley
Just Ride It
Yes
7
Rebts Marie-Eve
Endurando
No
8
Lannoo Quentin
Endurando
No
9
Bortels Christophe
Endurando
No
10
Jacques Guillaume
Endurando
No
11
Marchal Alexandra
Endurando
Yes
12
Secli Max
Endurando
Yes
13
Baicu Andrei
Just Ride It
No
14
marchal jonathan
Endurando
No
15
Minnaable Greg
Endurando
No
16
Philippe Noël
Endurando
No
17
Baicu Andrei
Just Ride It
No
18
Clermont Robin
Just Ride It
No
19
Dor Amir
Endurando
Yes
20
Delhaye Luc
Just Ride It
Yes
21
Köhler Alexander
Just Ride It
No
22
Henrion François
Just Ride It
Yes
23
Masson Grégory
Endurando
Yes
24
Dorcel Marc
Endurando
No
25
gennotte jean-francois
Endurando
No
26
van driessche christoff
Just Ride It
Yes
27
Masset Julien
Endurando
No
28
THIBAUT Jean
Endurando
No
29
Goethals Jeffry
Endurando
Yes
30
VINCENT Pierre-Alexandre
Just Ride It
Yes
31
MATHIEU Nicolas
Just Ride It
Yes
32
Eglem Brice
Just Ride It
Yes
33
Bourguignon Eileen
Just Ride It
No
34
Bury Philippe
Just Ride It
No
35
stute Amalia
Just Ride It
No
36
tomagra michel
Endurando
No
37
Dabe Amaury
Endurando
No
38
Didier Van Eecke
Endurando
Yes
39
Romane Delhaye
Yes
40
Augustin Hengen
Just Ride It
Yes
41
Gilles Vandermeeren
Yes
42
Jordens Philippe
No
43
Margraff Eric
Endurando
No
44
Martin Legrand
Endurando
Yes
45
Thiry Jerome
Yes
46
Roland Sophie
Yes
47
wilmotte marc
Endurando
No
48
BERNIER Alexandre
Yes
49
Pays Valentin
Just Ride It
No
50
Balsacq Corenthin
Just Ride It
Yes
51
De Witte Freek
Just Ride It
No
52
den Beer Kevin
Just Ride It
Yes
53
Michot vincent
Endurando
Yes
54
Sebastien Goessens
Just Ride It
Yes
55
den Beer Kevin
Yes
56
Barrié Antoine
Just Ride It
No
57
De Prins Wiebe
Just Ride It
No
58
Zeegers Johan
Just Ride It
Yes
59
collin martin
Just Ride It
No
60
hertsens kris
Endurando
No
61
Defenfe Tristan
Just Ride It
No
62
Van Steenwinkel Clayde
Just Ride It
Yes
63
Caseau Loris
Just Ride It
No
64
Dujardin Siegmund
Just Ride It
Yes
65
Depré Benoit
Yes
66
Nalinne Pierre
Yes
67
DELFOSSE Alyster
Just Ride It
No
68
Henderieckx Kris
Endurando
No
69
Mettepenningen Jeroen
Endurando
No
70
LEGROS Damien
Just Ride It
Yes
71
MOHR William
Just Ride It
Yes
72
LEGROS Damien
Just Ride It
Yes
73
Nico Simon
Just Ride It
No
74
Duchenne Bernard
Endurando
Yes
75
Aerts Olivier
Endurando
No
76
Sacré Sylvie
Yes
77
Frédéric MINET
Endurando
No
78
MEURICE Christophe
Endurando
Yes
79
Rosmant Thibaut
Just Ride It
Yes
80
Vanmoortel Klaas
Just Ride It
No
81
Vanmoortel Klaas
Endurando
No
82
de Schaetzen Niels
Just Ride It
No
83
Dumoulin Lionel
Endurando
No
84
Deneyer Yves
Endurando
No
85
Rosmant Sacha
Yes
86
Beco Olivier
Endurando
No
87
van der Flier Juriaan
Just Ride It
No
88
van Heugten Peter
Just Ride It
No
89
Verstegen Igor
Just Ride It
No
90
Justin Legros
Just Ride It
No
91
Mario govers
Just Ride It
No
92
MATHIEU Robin
Just Ride It
No
93
WINDELS Manon
Just Ride It
No
94
DENIS Cedric
Yes
95
Pazdziorko Gregoire
Just Ride It
Yes
96
lecomte Hadrien
Yes
97
Croes Gérald
Endurando
No
98
Van den Bergh Mallory
Just Ride It
No
99
Toussaint Romain
Endurando
Yes
100
Boxus Julien
Just Ride It
No
101
Aymeric Pirotte
Just Ride It
Yes
102
Aymeric Pirotte
Just Ride It
Yes
103
Pirotte Loris
Just Ride It
Yes
104
ROBA EMILIEN
Just Ride It
No
105
Guerriat Vincent
Just Ride It
No
106
Roba Emilien
Yes