LOTTO DH1 ENGIS 2017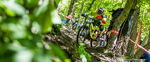 Belgian Downhill Cup #4
Engis : This is a new venue and a brand new track on the Belgian Circuit. The track will be long, demanding and very complete with all kind of sections you like to ride.
Un-licenced riders under 18 years old, pay attention ! The federation will ask you for a medical certificate
ATTENTION : At the registration office, you will have to pay a deposit of 10 euros for the Electronic Chips, those 10 euros will be refunded when you bring back the chip.
Shower schedule and location : Saturday from 7pm to 9pm at the "Salle des Sports du Mosa" Rue Reine Astrid 179 4480 Engis
* the race schedule is subject to change due to number of entrants
Course lentgh : 850 m
Course Vertical Drop : 130 m
Course time : tba
Course composition : Technical and rocky for the 1st third, fast lines and big jumps until the end
Saturday:
- From 09:00 to 16:00 : Registration
- From 10:00 to 11:00 : Track Walk
- From 11:00 to 17:00 : Training for all
- From 17:00 to 18:00 : Training top30 only
Sunday:
- From 08:30 to 10:30 : Training for all
- From 10:30 to 12:00 : Qualification 1
- From 13:30 to 15:00 : Qualification 2
- From 16:00 to 17:00 : Superfinal (40 riders)
Latest Videos
Race participants: 94 - Valid payments: 56
| | Nationality | Name | Registration Date | Club/Team | Category | Payment |
| --- | --- | --- | --- | --- | --- | --- |
| 1 | | Adrien Jacquemart | 30/08/2017 | Commencal bike | 1999 and before: Elites | |
| 2 | | Adrien Remacle | 12/08/2017 | Downhill Riders Syndicate | 2000 - 2001: Juniors | |
| 3 | | Alexis Leclercq | 24/08/2017 | / | 1999 and before: Elites | |
| 4 | | Alexis Wanson | 21/08/2017 | aucune | 2002 - 2003: Youth | |
| 5 | | Angelo Pozzallo | 08/08/2017 | / | 1999 and before: Elites | |
| 6 | | Anthony Bodelet | 27/08/2017 | / | 2000 - 2001: Juniors | |
| 7 | | Arnaud Menestrey | 29/08/2017 | Downhill Riders Syndicate | 2000 - 2001: Juniors | |
| 8 | | Audric Weytsman | 10/08/2017 | / | 2002 - 2003: Youth | |
| 9 | | Aymerick Morreels | 28/08/2017 | Antennabike | 2002 - 2003: Youth | |
| 10 | | Bastien Renard | 17/08/2017 | GT Wallonia | 1999 and before: Elites | |
| 11 | | Ben Vanhoof | 30/08/2017 | / | 1999 and before: Elites | |
| 12 | | Brady Hannot | 03/08/2017 | / | 1999 and before: Elites | |
| 13 | | Camile Remacle | 12/08/2017 | Downhill Riders Syndicate | Women | |
| 14 | | Camille Maes | 30/08/2017 | Ecole VTT Patric MAES | Women | |
| 15 | | Colin Demarteau | 01/08/2017 | Ecole Patric Maes | 2002 - 2003: Youth | |
| 16 | | Corenthin Balsacq | 22/08/2017 | / | 1999 and before: Elites | |
| 17 | | David Denuwelaere | 28/08/2017 | / | 1999 and before: Elites | |
| 18 | | David Happekotte | 28/08/2017 | / | 1988 - 1979: Masters 1 | |
| 19 | | Dies Moelker | 18/08/2017 | / | 2004 - 2005: Juvenile | |
| 20 | | Distatte Julien | 28/08/2017 | / | 1988 - 1979: Masters 1 | |
| 21 | | Dorian Josquin | 08/08/2017 | / | 1999 and before: Elites | |
| 22 | | Dylan Moray | 22/08/2017 | / | 2002 - 2003: Youth | |
| 23 | | Elroy Moonen | 08/08/2017 | / | 1999 and before: Elites | |
| 24 | | Felix Benoit | 27/08/2017 | Sickest Riders Team | 1999 and before: Elites | |
| 25 | | Florent Gaillard | 08/08/2017 | Dcteam mtb | 1999 and before: Elites | |
| 26 | | Florent Jacquet | 08/08/2017 | DCTEAM MTB TEAM | 2000 - 2001: Juniors | |
| 27 | | François Dufour | 31/07/2017 | / | 1978 and before: Masters 2 | |
| 28 | | Gabriel Alves | 28/08/2017 | Ripenabike | 1999 and before: Elites | |
| 29 | | Galand Raphaël | 28/08/2017 | / | 1999 and before: Elites | |
| 30 | | Gauthier Servais | 17/08/2017 | stevens team belguim | 2002 - 2003: Youth | |
| 31 | | Gilles Beukenne | 12/08/2017 | / | 1999 and before: Elites | |
| 32 | | Gilles Scigala | 12/08/2017 | Xtreme Gravity | 2002 - 2003: Youth | |
| 33 | | Gregoire Pazdziorko | 09/08/2017 | Devinci Gravity Team | 1999 and before: Elites | |
| 34 | | Jacquemin Gilles | 08/08/2017 | superbikers | 2000 - 2001: Juniors | |
| 35 | | Jan Denuwelaere | 28/08/2017 | crelan-vastgoedservice | 1999 and before: Elites | |
| 36 | | Jan Hulshof | 10/08/2017 | Cross the Forest | 2000 - 2001: Juniors | |
| 37 | | Jasper Lemaitre | 30/08/2017 | / | 1999 and before: Elites | |
| 38 | | Jean-Christophe Fastres | 08/08/2017 | / | 1988 - 1979: Masters 1 | |
| 39 | | Jean-Francois Noel | 15/08/2017 | Dcteam MTB | 1999 and before: Elites | |
| 40 | | Jelle Hemelsoen | 25/08/2017 | Loose Riders | 1988 - 1979: Masters 1 | |
| 41 | | Jérémy Branckotte | 09/08/2017 | / | 2002 - 2003: Youth | |
| 42 | | Jordan Lizin | 09/08/2017 | DCTEAM Mtb Team | 1999 and before: Elites | |
| 43 | | Jordy Constant | 26/08/2017 | Starting line | 1999 and before: Elites | |
| 44 | | Julien Coeymans | 17/08/2017 | / | 1999 and before: Elites | |
| 45 | | Justin Legros | 21/08/2017 | / | 1999 and before: Elites | |
| 46 | | Koert Vink | 07/08/2017 | Progravity.nl | 1999 and before: Elites | |
| 47 | | Laurence Vuylsteke | 29/08/2017 | 4-bikes | Women | |
| 48 | | Laurent Georges | 27/08/2017 | GOOSSE Red Bikers | 1978 and before: Masters 2 | |
| 49 | | Leo Grisel | 28/08/2017 | SECTION RACE BMX | 2004 - 2005: Juvenile | |
| 50 | | Lorent Julien | 08/08/2017 | Starting Line | 2000 - 2001: Juniors | |
| 51 | | Lorenzo Lima Blaise | 26/08/2017 | COMITE REGIONAL LIEGE | 1999 and before: Elites | |
| 52 | | Lorys Coumont | 31/07/2017 | / | 2002 - 2003: Youth | |
| 53 | | Luca Marsin | 07/08/2017 | / | 2004 - 2005: Juvenile | |
| 54 | | Lucas Fransolet | 28/08/2017 | Xtrem Gravity | 2002 - 2003: Youth | |
| 55 | | Mallori Raimondi | 29/08/2017 | / | 1999 and before: Elites | |
| 56 | | Marin Van Der Heide | 21/08/2017 | / | 1999 and before: Elites | |
| 57 | | Martijn Steenblok | 30/08/2017 | team x-treme | 2002 - 2003: Youth | |
| 58 | | Martin Michaux | 28/08/2017 | DreamTeam | 2002 - 2003: Youth | |
| 59 | | Marvin Collard | 08/08/2017 | LUXBIKES | 1999 and before: Elites | |
| 60 | | Maxime Englebert | 23/08/2017 | Luxbikes | 2000 - 2001: Juniors | |
| 61 | | Maxime Legrand | 22/08/2017 | Gt wallonia | 2002 - 2003: Youth | |
| 62 | | Michael Goossens | 08/08/2017 | / | 1988 - 1979: Masters 1 | |
| 63 | | Nico Simon | 19/08/2017 | DCTEAM - Bike / 100% | 1999 and before: Elites | |
| 64 | | Nicolas Mathieu | 22/08/2017 | DC Team / GT 100% | 1999 and before: Elites | |
| 65 | | Nicolas Petit | 17/08/2017 | / | 1999 and before: Elites | |
| 66 | | Pardoens Thomas | 23/08/2017 | Vélo Tout Terrain Chaumontais | 1999 and before: Elites | |
| 67 | | Paulo Manuel Marques Dos Santos | 28/08/2017 | / | 1999 and before: Elites | |
| 68 | | Quentin Scailteur | 30/08/2017 | / | 1999 and before: Elites | |
| 69 | | Robin Matot | 09/08/2017 | Xtreme Gravity Team | 1999 and before: Elites | |
| 70 | | Ronald Vranken | 21/08/2017 | Bike ARENA/mondraker | 1978 and before: Masters 2 | |
| 71 | | Ronan Borgs | 19/08/2017 | / | 2004 - 2005: Juvenile | |
| 72 | | Roos Op De Beeck | 08/08/2017 | Swooth MTB Team | Women | |
| 73 | | Sammy Van De Walle | 19/08/2017 | Bomber - Camabike | 1988 - 1979: Masters 1 | |
| 74 | | Simon Botte | 16/08/2017 | / | 2002 - 2003: Youth | |
| 75 | | Simon Moermans | 28/08/2017 | / | 2000 - 2001: Juniors | |
| 76 | | Stanley Neerinck | 08/08/2017 | Xtreme Gravity | 1978 and before: Masters 2 | |
| 77 | | Stijn Van Hoyweghen | 19/08/2017 | Loose Riders | 1999 and before: Elites | |
| 78 | | Tanguy De Cock | 08/08/2017 | STARTING LINE / TBS Racing | 2000 - 2001: Juniors | |
| 79 | | Thibaud Raths | 30/08/2017 | LUXBIKES | 1999 and before: Elites | |
| 80 | | Thibault Hess | 29/08/2017 | / | 2000 - 2001: Juniors | |
| 81 | | Thibaut Rosmant | 20/08/2017 | DCTeam | 1999 and before: Elites | |
| 82 | | Thomas Fraiture | 17/08/2017 | Xtreme Gravity | 2002 - 2003: Youth | |
| 83 | | Thorsten Suckow-Homberg | 23/08/2017 | kuchenrun.de Racing Team | 1978 and before: Masters 2 | |
| 84 | | Tom Boonen | 13/08/2017 | AMB | 2002 - 2003: Youth | |
| 85 | | Tom Cologne | 21/08/2017 | / | 2000 - 2001: Juniors | |
| 86 | | Tom Van Troos | 30/08/2017 | / | 1999 and before: Elites | |
| 87 | | Ugo Dejardin | 01/08/2017 | Bi Cross Soumagne | 2002 - 2003: Youth | |
| 88 | | Valentin Feront | 27/08/2017 | Starting Line | 2000 - 2001: Juniors | |
| 89 | | Vicky Holtzheimer | 29/08/2017 | / | 1999 and before: Elites | |
| 90 | | Vincent Vandersmissen | 24/08/2017 | //////// | 1999 and before: Elites | |
| 91 | | Vincenzo Lazzara | 13/08/2017 | Xtreme Gravity | 2000 - 2001: Juniors | |
| 92 | | Ward Baten | 19/08/2017 | / | 1999 and before: Elites | |
| 93 | | Wim Robbrecht | 21/08/2017 | / | 1988 - 1979: Masters 1 | |
| 94 | | Youri Swiecki | 08/08/2017 | / | 1999 and before: Elites | |