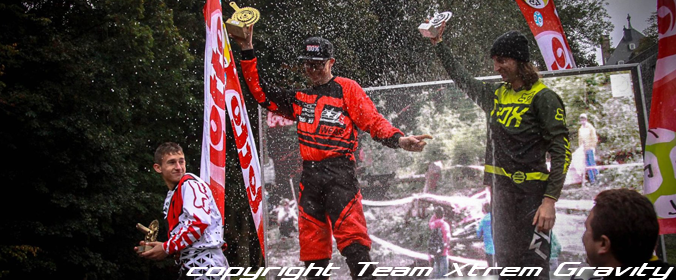 LOTTO DH1 NAMUR 2015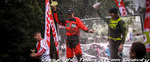 Belgian Downhill Cup #5
Namur : The skunk will rock you once again for the final round of the 2015 Lotto DH1 season
Venue : Esplanade de la Citadelle, 5000 Namur. On the top of the "route merveileuse"
Un-licenced riders under 18 years old, pay attention ! The federation will ask you for a medical certificate
* the race schedule is subject to change due to number of entrants
Course lentgh : TBC 1 km
Course Vertical Drop : 100 m
Course time : TBC 1,22,35 (Bertrand Gilles, 2013)
Course composition : very fast with big jumps
Remember : Only the 4 best results of the season count for the general ranking !
Saturday:
- From 08:45 to 09:30 : Training Group B
- From 09:00 to 13:00 : Registration and training
- From 14:00 to 18:00 : Registration and training
Sunday:
- From 08:00 to 08:45 : Training Group A
- From 08:45 to 09:30 : Training Group B
- From 10:00 to 12:00 : Qualification 1
- From 13:30 to 15:30 : Qualification 2
Latest Videos
Race participants: 148 - Valid payments: 83
| | Nationality | Name | Registration Date | Club/Team | Category | Payment |
| --- | --- | --- | --- | --- | --- | --- |
| 1 | | Adrien Benoit | 10/09/2015 | Tige de selle as speculum | 1999 and before: Elites | |
| 2 | | Adrien Jacquemart | 21/09/2015 | Commencal bike | 1999 and before: Elites | |
| 3 | | Adrien Remacle | 07/09/2015 | Downhill Riders Syndicate | 2000 - 2001: Juniors | |
| 4 | | Alexis D'heer | 19/09/2015 | LOOSE RIDERS | 1999 and before: Elites | |
| 5 | | Alexis Leclercq | 18/09/2015 | / | 1999 and before: Elites | |
| 6 | | Angelo Declercq | 21/09/2015 | Camabike-bomber | 1999 and before: Elites | |
| 7 | | Angelo Pozzallo | 23/08/2015 | / | 1999 and before: Elites | |
| 8 | | Antoine Giuliani | 23/09/2015 | / | 2000 - 2001: Juniors | |
| 9 | | Antonin Adancourt | 24/08/2015 | Terre Hills Riders | 2002 - 2003: Youth | |
| 10 | | Arnaud Brassart | 03/09/2015 | / | 2002 - 2003: Youth | |
| 11 | | Arnaud Stoll | 09/09/2015 | Devinci diplomatic/ VCU Schwenheim | 1999 and before: Elites | |
| 12 | | Audric Weytsman | 21/09/2015 | / | 2002 - 2003: Youth | |
| 13 | | Aymerick Morreels | 10/09/2015 | Antennabike | 2002 - 2003: Youth | |
| 14 | | Ben Vanhoof | 12/09/2015 | / | 1999 and before: Elites | |
| 15 | | Benoît Destrée | 13/09/2015 | / | 1999 and before: Elites | |
| 16 | | Benoit Kaye | 23/09/2015 | / | 2000 - 2001: Juniors | |
| 17 | | Benoit Stoclet | 09/09/2015 | Kitchen Bike | 1988 - 1979: Masters 1 | |
| 18 | | Bruno Brodure | 07/09/2015 | Malmedy Mountain BIKE Team | | |
| 19 | | Bruno Lemos | 10/09/2015 | Ja rosny / singlebikes | 1999 and before: Elites | |
| 20 | | Cangialosi Cyprien | 01/09/2015 | fun bike algrange | 1999 and before: Elites | |
| 21 | | Christophe Dhont | 07/09/2015 | / | 1978 and before: Masters 2 | |
| 22 | | Christophe Ibens | 01/09/2015 | B2R team | 2002 - 2003: Youth | |
| 23 | | Claude Carpaij | 21/08/2015 | / | 1999 and before: Elites | |
| 24 | | Clayde Van Steenwinkel | 23/09/2015 | / | 1999 and before: Elites | |
| 25 | | Corenthin Balsacq | 16/09/2015 | / | 1999 and before: Elites | |
| 26 | | Daan Roosens | 21/09/2015 | Ikkomiszien | 1999 and before: Elites | |
| 27 | | Damien Remy | 31/08/2015 | 5crew | 1999 and before: Elites | |
| 28 | | Daniel Ludwig | 08/09/2015 | IK-PivotCyclesGermany | 1999 and before: Elites | |
| 29 | | David Deryck | 16/09/2015 | Dabomb Bikes | 1999 and before: Elites | |
| 30 | | David Selemani | 01/01/1970 | / | 1988 - 1979: Masters 1 | |
| 31 | | Diego Savelsberg | 12/09/2015 | Scott | 2004 - 2005: Juvenile | |
| 32 | | Eline Nijhuis | 08/09/2015 | CombeeRacing | Women | |
| 33 | | Erwan Berthelot | 14/09/2015 | Bike Park La Bresse | 1999 and before: Elites | |
| 34 | | Felix Benoit | 15/09/2015 | Sickest Riders Team | 1999 and before: Elites | |
| 35 | | Felix Gollers | 09/09/2015 | EISENBIEGER DUISBURG | 1999 and before: Elites | |
| 36 | | Florent Gaillard | 05/09/2015 | Dcteam mtb | 1999 and before: Elites | |
| 37 | | Florent Heuse | 17/09/2015 | DHDT | 1999 and before: Elites | |
| 38 | | Florian Zamy | 03/09/2015 | TeaMendes | 1999 and before: Elites | |
| 39 | | Floris Snoeren | 21/09/2015 | IK-PivotCyclesGermany | 1999 and before: Elites | |
| 40 | | Gatien Minet | 06/09/2015 | BadRiders | 1999 and before: Elites | |
| 41 | | Gatien Tombeur | 20/09/2015 | / | 2000 - 2001: Juniors | |
| 42 | | Gilles Scigala | 25/08/2015 | Xtreme Gravity | 2002 - 2003: Youth | |
| 43 | | Gregoire Pazdziorko | 22/09/2015 | Devinci Gravity Team | 1999 and before: Elites | |
| 44 | | Hugo Lateltin | 09/09/2015 | team MOUMOUNE/vtt oceane/ endhuro76 | 1999 and before: Elites | |
| 45 | | Israela Bakker | 09/09/2015 | Mikey's Downhill & Enduro Team | Women | |
| 46 | | Ivo Bontenbal | 18/08/2015 | / | 1999 and before: Elites | |
| 47 | | Jacquemin Gilles | 22/09/2015 | superbikers | 2000 - 2001: Juniors | |
| 48 | | Jean-Christophe Fastres | 06/09/2015 | / | 1988 - 1979: Masters 1 | - 4 € |
| 49 | | Jean-Francois Noel | 02/09/2015 | Dcteam MTB | 1999 and before: Elites | |
| 50 | | Jelle Couvent | 21/08/2015 | co-factory commencal / krank | 2000 - 2001: Juniors | |
| 51 | | Jelle Hemelsoen | 01/09/2015 | Loose Riders | 1988 - 1979: Masters 1 | |
| 52 | | Jeremy Mathot | 22/09/2015 | Speed Devil | 2000 - 2001: Juniors | |
| 53 | | Jesse Van Hilten | 29/08/2015 | / | 2000 - 2001: Juniors | |
| 54 | | Jimmy Vermoes | 28/08/2015 | / | 2004 - 2005: Juvenile | |
| 55 | | Johan Zeegers | 05/09/2015 | / | 2002 - 2003: Youth | |
| 56 | | Jonathan Lebon | 19/09/2015 | / | 1999 and before: Elites | |
| 57 | | Jordan Collin | 09/09/2015 | / | 1999 and before: Elites | |
| 58 | | Jordan Lizin | 30/08/2015 | DCTEAM Mtb Team | 1999 and before: Elites | |
| 59 | | Jordan Rase | 24/08/2015 | / | 1999 and before: Elites | |
| 60 | | Jordy Constant | 18/08/2015 | Starting line | 1999 and before: Elites | |
| 61 | | Julien Boxus | 21/09/2015 | / | 1999 and before: Elites | |
| 62 | | Julien Delooz | 23/09/2015 | DC-team Bike | 1999 and before: Elites | |
| 63 | | Julien Hansoul | 26/08/2015 | / | 1988 - 1979: Masters 1 | |
| 64 | | Julien Pascolini | 14/09/2015 | wolfgang | 1999 and before: Elites | |
| 65 | | Julien Wilders | 24/08/2015 | BMXING PARK BLEGNY | 2002 - 2003: Youth | |
| 66 | | Justin Legros | 09/09/2015 | Team Xtreme Gravity | 1999 and before: Elites | |
| 67 | | Karl Heidbreder | 10/09/2015 | / | 1999 and before: Elites | |
| 68 | | Kenny Fauvernier | 07/09/2015 | TEAM HAUTE MARNE | 1999 and before: Elites | |
| 69 | | Koen Horemans | 22/09/2015 | BIKE ARENA - MONDRAKER | 1978 and before: Masters 2 | |
| 70 | | Koen Vernelen | 20/09/2015 | / | 1999 and before: Elites | |
| 71 | | Kristof Lenssens | 18/09/2015 | The Barracuda Company | 1988 - 1979: Masters 1 | |
| 72 | | Laurent Georges | 20/09/2015 | GOOSSE Red Bikers | 1978 and before: Masters 2 | |
| 73 | | Leo Combee | 15/09/2015 | COMBEERACING | 1999 and before: Elites | |
| 74 | | Lioust Marc | 21/09/2015 | VTT Océane | 1999 and before: Elites | |
| 75 | | Loic Giller | 14/09/2015 | Twenty Bicycle | 1999 and before: Elites | |
| 76 | | Loic Tordoir | 23/08/2015 | / | 1999 and before: Elites | |
| 77 | | Lorent Julien | 15/09/2015 | Starting Line | 2000 - 2001: Juniors | |
| 78 | | Lorenzo Lima Blaise | 20/09/2015 | COMITE REGIONAL LIEGE | 1999 and before: Elites | |
| 79 | | Lucas Fransolet | 26/08/2015 | Xtrem Gravity | 2002 - 2003: Youth | |
| 80 | | Ludwig Lecrenier | 25/08/2015 | / | 2000 - 2001: Juniors | |
| 81 | | Lux Mériadec | 21/08/2015 | / | 1988 - 1979: Masters 1 | |
| 82 | | Mallori Raimondi | 24/08/2015 | / | 1999 and before: Elites | |
| 83 | | Marco Paulo Henrique Lemos | 16/09/2015 | JA Rosny / single bikes | 1999 and before: Elites | |
| 84 | | Margreet Meems | 14/09/2015 | Mikey's Downhill & Enduro team | Women | |
| 85 | | Marin Van Der Heide | 29/08/2015 | / | 1999 and before: Elites | |
| 86 | | Martin Collin | 19/09/2015 | / | 2000 - 2001: Juniors | |
| 87 | | Martin Michaux | 15/09/2015 | DreamTeam | 2002 - 2003: Youth | |
| 88 | | Mathias Beranger | 23/09/2015 | MTBIKERS BCH | 1999 and before: Elites | |
| 89 | | Matteo Melan | 30/08/2015 | 5crew | 2000 - 2001: Juniors | |
| 90 | | Matteo Varotto | 31/08/2015 | Xtreme Gravity | 2000 - 2001: Juniors | |
| 91 | | Matthew Vanoevelen | 01/09/2015 | antenna bike | 2000 - 2001: Juniors | |
| 92 | | Mauro Van Der Heide | 29/08/2015 | / | 2000 - 2001: Juniors | |
| 93 | | Maxime Fransolet | 26/08/2015 | Xtreme Gravity Team | 1999 and before: Elites | |
| 94 | | Maxime Madoux | 23/09/2015 | SPORTS CARBONE | 1988 - 1979: Masters 1 | |
| 95 | | Morgan De Wette | 23/09/2015 | / | 2000 - 2001: Juniors | |
| 96 | | Mourad Bencherchali | 28/08/2015 | / | 1999 and before: Elites | |
| 97 | | Nestor Gilson | 19/09/2015 | / | 1999 and before: Elites | |
| 98 | | Nico Simon | 18/09/2015 | DCTEAM - Bike / 100% | 1999 and before: Elites | |
| 99 | | Nicolas Close | 27/08/2015 | 5CREW | 1999 and before: Elites | |
| 100 | | Nicolas Mathieu | 03/09/2015 | DC Team / GT 100% | 1999 and before: Elites | |
| 101 | | Nicolas Muccino | 01/01/1970 | / | 2004 - 2005: Juvenile | |
| 102 | | Nicolas Pierre | 24/08/2015 | / | 1999 and before: Elites | |
| 103 | | Olivier Lardinois | 23/09/2015 | / | 1988 - 1979: Masters 1 | |
| 104 | | Padoens Arnaud | 01/09/2015 | US Domont | 2004 - 2005: Juvenile | |
| 105 | | Pardoens Frédéric | 02/09/2015 | / | 1978 and before: Masters 2 | |
| 106 | | Pardoens Thomas | 01/09/2015 | Vélo Tout Terrain Chaumontais | 1999 and before: Elites | |
| 107 | | Philippe Da Silva | 17/08/2015 | Dagg racing | 1978 and before: Masters 2 | |
| 108 | | Pierre Meus | 20/09/2015 | / | 2002 - 2003: Youth | |
| 109 | | Poskin John | 20/09/2015 | Hard'n bike | 2000 - 2001: Juniors | |
| 110 | | Quentin Scailteur | 20/09/2015 | / | 1999 and before: Elites | |
| 111 | | Raphael Patini | 18/08/2015 | / | 2002 - 2003: Youth | |
| 112 | | Raphael Valange | 31/08/2015 | / | 2002 - 2003: Youth | |
| 113 | | Rens Dedecker | 23/09/2015 | / | 1999 and before: Elites | |
| 114 | | Robert Strom | 23/08/2015 | Hutchinson Thirty7even Junior Racing | 2000 - 2001: Juniors | |
| 115 | | Robin Mathieu | 14/09/2015 | RIDE NOW | 1999 and before: Elites | |
| 116 | | Robin Matot | 14/09/2015 | Xtreme Gravity Team | 1999 and before: Elites | |
| 117 | | Romain Gilles | 21/09/2015 | DC team | 1999 and before: Elites | |
| 118 | | Romain Toussaint | 02/09/2015 | STARTING LINE | 1999 and before: Elites | |
| 119 | | Romuald Laplanche | 02/09/2015 | FR FAULX WAGON DH | 1999 and before: Elites | |
| 120 | | Ronald Jamar | 15/09/2015 | / | 1978 and before: Masters 2 | |
| 121 | | Ronny Hielscher | 21/09/2015 | / | 1999 and before: Elites | |
| 122 | | Roos Op De Beeck | 08/09/2015 | Swooth MTB Team | Women | |
| 123 | | Sammy Van De Walle | 22/09/2015 | Bomber - Camabike | 1988 - 1979: Masters 1 | |
| 124 | | Sander Couvent | 08/09/2015 | krank | 1999 and before: Elites | |
| 125 | | Sander Wouters | 08/09/2015 | BMX Dennenteam | 2000 - 2001: Juniors | |
| 126 | | Stephan Van Waeyenberghe | 05/09/2015 | 5crew | 1999 and before: Elites | |
| 127 | | Steven Lemmens | 08/09/2015 | / | 1978 and before: Masters 2 | |
| 128 | | Tanguy De Cock | 27/08/2015 | STARTING LINE / TBS Racing | 2000 - 2001: Juniors | |
| 129 | | Teo Bouteloup | 15/09/2015 | jaquie et michel team manager | 2002 - 2003: Youth | |
| 130 | | Thibault Hess | 25/08/2015 | / | 2000 - 2001: Juniors | |
| 131 | | Thibaut Rosmant | 07/09/2015 | DCTeam | 1999 and before: Elites | |
| 132 | | Thomas Hubert | 03/09/2015 | Red Bikers | 2000 - 2001: Juniors | |
| 133 | | Thomas Vis | 09/09/2015 | Bikenation DH-team | 2000 - 2001: Juniors | |
| 134 | | Tim Wehrens | 31/08/2015 | / | 2000 - 2001: Juniors | |
| 135 | | Timothy Holtzheimer | 26/08/2015 | / | 2000 - 2001: Juniors | |
| 136 | | Tom Boonen | 22/08/2015 | AMB | 2002 - 2003: Youth | |
| 137 | | Tom Timmermans | 22/08/2015 | ecw | 2000 - 2001: Juniors | |
| 138 | | Tristan Defenfe | 25/08/2015 | DC Team | 1999 and before: Elites | |
| 139 | | Valentin Debaque | 01/09/2015 | Lucky Boy - Born to ride | 1999 and before: Elites | |
| 140 | | Vincent Lecuit | 21/09/2015 | WOODBIKE TEAM | 1999 and before: Elites | |
| 141 | | Vincent Vandersmissen | 24/08/2015 | //////// | 1999 and before: Elites | |
| 142 | | Vincenzo Lazzara | 19/09/2015 | Xtreme Gravity | 2000 - 2001: Juniors | |
| 143 | | Ward De Prins | 25/08/2015 | Loose Riders | 2000 - 2001: Juniors | |
| 144 | | Wiebe De Prins | 26/08/2015 | KRANK | 1999 and before: Elites | |
| 145 | | William Barsin | 21/09/2015 | Kyoz Store liège | 1999 and before: Elites | |
| 146 | | Wim Robbrecht | 10/09/2015 | / | 1988 - 1979: Masters 1 | - 2 € |
| 147 | | Yacine Rekab | 06/09/2015 | Meywihr-Team | 1988 - 1979: Masters 1 | |
| 148 | | Youri Swiecki | 14/09/2015 | / | 1999 and before: Elites | |