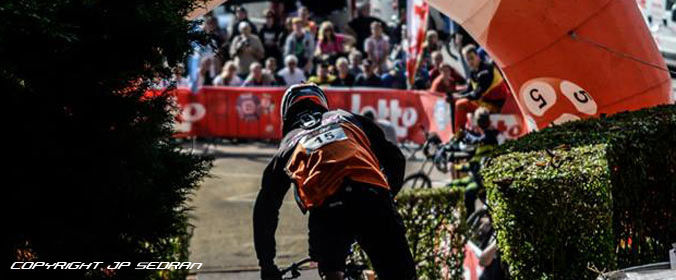 LOTTO DH1 Dinant 2014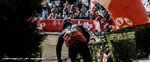 Benelux Cup #2
RESULTATS 2014 :
Dinant : The best New TRACK of 2013 season !!!
Attention, as the arrival is downtown of Dinant, there will be two paddock areas.
Paddock Start : Rue de Montfat 5500 Dinant
Paddock Arrival : Rue en Rhée, esplanade Princesse Elisabeht 5500 Dinant. This one is only accessible for big teams and guests.
200 riders MAXIMUM. Only paid registration will be validated.Un-licenced riders under 18 years old, pay attention ! The federation will ask you for a medical certificate
* the race schedule is subject to change due to number of entrants
Course lentgh: 0,6 km
Course Vertical Drop: 110 m
Course time: 1,02,39 min Ludovic Oget
Course composition: 100% Forest, Rocky fast and demanding
Saturday:
- From 09:00 to 13:00 : Registration & Training
- From 14:00 to 18:00 : Registration & Training
Sunday:
- From 08:00 to 08:45 : Training Group A
- From 08:45 to 09:30 : Training Group B
- From 10:00 to 12:00 : Qualification 1
- From 13:30 to 15:30 : Qualification 2
- From 16:00 to 17:00 : Superfinal
Latest Videos
Race participants: 229 - Valid payments: 151
| | Nationality | Name | Registration Date | Club/Team | Category | Payment |
| --- | --- | --- | --- | --- | --- | --- |
| 1 | | Adrien Jacquemart | 16/04/2014 | Commencal bike | 1999 and before: Elites | |
| 2 | | Alain Wiot | 18/04/2014 | will devils team | 2004 - 2005: Juvenile | |
| 3 | | Alex Geukens | 22/04/2014 | Bike Huis Geukens | 1978 and before: Masters 2 | |
| 4 | | Alexander Köhler | 17/04/2014 | / | 1988 - 1979: Masters 1 | |
| 5 | | Alexander Seidner | 05/05/2014 | / | 1999 and before: Elites | |
| 6 | | Alexis Leclercq | 29/04/2014 | / | 1999 and before: Elites | |
| 7 | | Alexis Senault | 25/04/2014 | kaskou rider | 1999 and before: Elites | |
| 8 | | Amandine Pruvost | 23/04/2014 | Kaskou'Riders | Women | |
| 9 | | Ambroise Hebert | 16/04/2014 | Alpes mancelles ride | 1999 and before: Elites | |
| 10 | | Anastasia Maurice | 17/04/2014 | RYDE-RACING | Women | |
| 11 | | Andre Thomas | 16/04/2014 | Fleshair Downhill Racing Team | 1999 and before: Elites | |
| 12 | | Andreas Sieber | 24/04/2014 | Radon Factory Downhill Team | 1999 and before: Elites | |
| 13 | | Angelo Pozzallo | 16/04/2014 | / | 1999 and before: Elites | |
| 14 | | Ann Christin Hartmann | 15/04/2014 | SOLID NATIONAL RACING | Women | |
| 15 | | Annika Jeschke | 15/04/2014 | / | Women | |
| 16 | | Anthony Ma | 17/04/2014 | / | 1978 and before: Masters 2 | |
| 17 | | Anthony Pierard | 19/04/2014 | verTT moutain bike school | 2002 - 2003: Youth | |
| 18 | | Antoine Giuliani | 15/04/2014 | team whip and ride | 2000 - 2001: Juniors | |
| 19 | | Arnaud Brassart | 15/04/2014 | / | 2002 - 2003: Youth | |
| 20 | | Arnaud Falla | 15/04/2014 | DH Team BUBBA RIDE | 1999 and before: Elites | |
| 21 | | Arnaud Stoll | 22/04/2014 | Devinci diplomatic/ VCU Schwenheim | 1999 and before: Elites | |
| 22 | | Arnould Romain | 27/04/2014 | / | 1999 and before: Elites | |
| 23 | | Arthur Racaud | 30/04/2014 | US Cagnes | 1999 and before: Elites | |
| 24 | | Augustin Hengen | 17/04/2014 | ISG Racing Team | 1999 and before: Elites | |
| 25 | | Aurelio Pastror Tejada | 09/05/2014 | / | 1988 - 1979: Masters 1 | |
| 26 | | Aymeric Pirotte | 02/05/2014 | / | 1999 and before: Elites | |
| 27 | | Ayrton Denis | 29/04/2014 | / | 2000 - 2001: Juniors | |
| 28 | | Barrié Antoine | 19/04/2014 | / | 1999 and before: Elites | |
| 29 | | Benjamin Farsang | 29/04/2014 | North Rider Crew | 1999 and before: Elites | |
| 30 | | Benoit Kaye | 23/04/2014 | / | 2000 - 2001: Juniors | |
| 31 | | Benoit Stoclet | 04/05/2014 | Kitchen Bike | 1988 - 1979: Masters 1 | |
| 32 | | Benoit Wendling | 20/04/2014 | Meywihr Team | 1988 - 1979: Masters 1 | |
| 33 | | Brice Eglem | 19/04/2014 | Antenna Bikes / Starting Line | 1999 and before: Elites | |
| 34 | | Brieu Albert | 06/05/2014 | / | 1999 and before: Elites | |
| 35 | | Bror Aarsman | 17/04/2014 | progravity.nl | 1999 and before: Elites | |
| 36 | | Bruno Brodure | 30/04/2014 | Malmedy Mountain BIKE Team | | |
| 37 | | Buffart Antoine | 28/04/2014 | / | 1999 and before: Elites | |
| 38 | | Camille Blochas | 06/05/2014 | / | 1999 and before: Elites | |
| 39 | | Carl Grützner | 17/04/2014 | Fahrradhaus Daute Downhill Team | 2000 - 2001: Juniors | |
| 40 | | Chris Jones | 18/04/2014 | vv tooltime preizerdaul | 1999 and before: Elites | |
| 41 | | Christian Colbach | 15/04/2014 | Soulrider e.V/ L.C.Tetange | 1988 - 1979: Masters 1 | |
| 42 | | Christoff Van Driessche | 17/04/2014 | / | 1988 - 1979: Masters 1 | |
| 43 | | Christophe Dhont | 20/04/2014 | / | 1978 and before: Masters 2 | |
| 44 | | Claude Carpaij | 18/04/2014 | / | 1999 and before: Elites | |
| 45 | | Clayde Van Steenwinkel | 23/04/2014 | / | 1999 and before: Elites | |
| 46 | | Clement Petitgrand | 29/04/2014 | vtt oceane | 1999 and before: Elites | |
| 47 | | Colin Aernout | 15/04/2014 | / | 2000 - 2001: Juniors | |
| 48 | | Corenthin Balsacq | 17/04/2014 | / | 1999 and before: Elites | |
| 49 | | Corentin Bechard | 16/04/2014 | Us EZANVILLE ECOUEN | 2000 - 2001: Juniors | |
| 50 | | Cyril Carnol | 20/04/2014 | / | 2000 - 2001: Juniors | |
| 51 | | Daniel Ludwig | 22/04/2014 | IK-PivotCyclesGermany | 1999 and before: Elites | |
| 52 | | Dávid Bokor | 15/04/2014 | JUMP SPORT KLUB, Košice | 1999 and before: Elites | |
| 53 | | David Deryck | 17/04/2014 | Dabomb Bikes | 1999 and before: Elites | |
| 54 | | David Houpert | 21/04/2014 | EDH des Vals by SCOTT | 1999 and before: Elites | |
| 55 | | Davy Kos | 22/05/2014 | / | 1999 and before: Elites | |
| 56 | | De Visser Erwin | 30/04/2014 | Southside-Mountainbiking | 1999 and before: Elites | |
| 57 | | Debruyne Stany | 28/04/2014 | / | 1999 and before: Elites | |
| 58 | | Dimintri Hurion | 04/05/2014 | Bike Infinity | 1978 and before: Masters 2 | |
| 59 | | Dimitri Schepers | 22/04/2014 | / | 1988 - 1979: Masters 1 | |
| 60 | | Dupuis Joffrey | 29/04/2014 | Kaskou riders | 1999 and before: Elites | |
| 61 | | Eelke Rutten | 17/04/2014 | Thirty7even | Women | |
| 62 | | Emilien Schuermans | 18/04/2014 | / | 1999 and before: Elites | |
| 63 | | Emmanuel Becquart | 02/05/2014 | VTT OCEANE | 1999 and before: Elites | |
| 64 | | Felix Benoit | 03/05/2014 | Sickest Riders Team | 1999 and before: Elites | |
| 65 | | Florian Zamy | 27/04/2014 | TeaMendes | 1999 and before: Elites | |
| 66 | | François Becquart | 03/05/2014 | VTT OCEANE | 1999 and before: Elites | |
| 67 | | Gabriel Louis | 22/04/2014 | / | 1988 - 1979: Masters 1 | |
| 68 | | Gauthier Jadot | 28/04/2014 | / | 1999 and before: Elites | |
| 69 | | Geoffrey Marechal | 16/04/2014 | Starting Line | 1999 and before: Elites | |
| 70 | | Gérald Croes | 15/04/2014 | / | 1999 and before: Elites | |
| 71 | | Gilles Carnol | 24/04/2014 | / | 2000 - 2001: Juniors | |
| 72 | | Godest Quentin | 15/04/2014 | US DOMONT CYCLISME | 1999 and before: Elites | |
| 73 | | Goossens Thibaut | 15/04/2014 | / | 2002 - 2003: Youth | |
| 74 | | Greg Dethise | 20/04/2014 | / | 1988 - 1979: Masters 1 | |
| 75 | | Gregoire Pazdziorko | 24/04/2014 | Devinci Gravity Team | 1999 and before: Elites | |
| 76 | | Gregory Beaudelain | 18/04/2014 | terrehillsriders | 1978 and before: Masters 2 | |
| 77 | | Gregory Van Geenberghe | 24/04/2014 | / | 1988 - 1979: Masters 1 | |
| 78 | | Gunther Van Gavere | 17/04/2014 | / | 1978 and before: Masters 2 | |
| 79 | | Heiko Hirzbruch | 15/04/2014 | Zee Aylienz - MTB Hagen | 1978 and before: Masters 2 | |
| 80 | | Hubert Jourdin | 29/04/2014 | liber 't cycle | 1999 and before: Elites | |
| 81 | | Hugo Lateltin | 28/04/2014 | team MOUMOUNE/vtt oceane/ endhuro76 | 1999 and before: Elites | |
| 82 | | Jacquemart Alix | 17/04/2014 | Dagg Racing | Women | |
| 83 | | Jan Berkenkopf | 03/05/2014 | MRC Young Guns | 1999 and before: Elites | |
| 84 | | Jason Street | 30/04/2014 | / | 1988 - 1979: Masters 1 | |
| 85 | | Jelle Couvent | 25/04/2014 | commencal co-factory | 2000 - 2001: Juniors | |
| 86 | | Jelle Hemelsoen | 15/04/2014 | Loose Riders | 1988 - 1979: Masters 1 | |
| 87 | | Jérémy Colson | 06/05/2014 | / | 1999 and before: Elites | |
| 88 | | Jeremy Mathot | 22/04/2014 | Speed Devil | 2000 - 2001: Juniors | |
| 89 | | Jérémy Reyserhove | 07/05/2014 | will devils team | 2002 - 2003: Youth | |
| 90 | | Jeremy Vermeulen | 22/04/2014 | kaskou'riders | 1988 - 1979: Masters 1 | |
| 91 | | Jesse Van Hilten | 22/04/2014 | / | 2000 - 2001: Juniors | |
| 92 | | Jimmy Villier | 16/04/2014 | vtt oceane | 1999 and before: Elites | |
| 93 | | Joey Luyten | 16/04/2014 | / | 1988 - 1979: Masters 1 | |
| 94 | | Johan Zeegers | 23/04/2014 | / | 2002 - 2003: Youth | |
| 95 | | Johannes Corr | 16/04/2014 | Team Commencal Superrider Germany | 1999 and before: Elites | |
| 96 | | Jordan Collin | 20/04/2014 | / | 1999 and before: Elites | |
| 97 | | Jordan Lizin | 15/04/2014 | DCTEAM Mtb Team | 1999 and before: Elites | |
| 98 | | Jules Marchal | 16/04/2014 | FR FAULX WAGON DH | 1999 and before: Elites | |
| 99 | | Julien Boxus | 22/04/2014 | / | 1999 and before: Elites | |
| 100 | | Julien Carette | 29/04/2014 | The Roadie Crew | 1999 and before: Elites | |
| 101 | | Julien Romain | 28/04/2014 | / | 2000 - 2001: Juniors | |
| 102 | | Julien Wilders | 18/04/2014 | BMXING PARK BLEGNY | 2002 - 2003: Youth | |
| 103 | | Juriaan Van Der Flier | 15/04/2014 | Landscape Magazine | 1988 - 1979: Masters 1 | |
| 104 | | Justin Legros | 20/04/2014 | Team Xtreme Gravity | 1999 and before: Elites | |
| 105 | | Karl Heidbreder | 16/04/2014 | / | 1999 and before: Elites | |
| 106 | | Kevin Den Beer | 28/04/2014 | Progravity | 1988 - 1979: Masters 1 | |
| 107 | | Kévin Meyer | 29/04/2014 | Terre Hills Riders / Loose Riders | 1999 and before: Elites | |
| 108 | | Kevin Picarella | 21/04/2014 | / | 1999 and before: Elites | |
| 109 | | Kevin Vanwetswinkel | 29/04/2014 | / | 1999 and before: Elites | |
| 110 | | Kevin Vanwetswinkel | 29/04/2014 | / | 1999 and before: Elites | |
| 111 | | Koen Horemans | 16/04/2014 | BIKE ARENA - MONDRAKER | 1978 and before: Masters 2 | |
| 112 | | Koen Vernelen | 24/04/2014 | / | 1999 and before: Elites | |
| 113 | | Kristof Lenssens | 29/04/2014 | The Barracuda Company | 1988 - 1979: Masters 1 | |
| 114 | | Lars Veenstra | 22/04/2014 | WeRideBikes.nl | 1999 and before: Elites | |
| 115 | | Laurent Georges | 04/05/2014 | GOOSSE Red Bikers | 1978 and before: Masters 2 | |
| 116 | | Lionel Dumoulin | 21/04/2014 | Malmedy MTB Team | 1988 - 1979: Masters 1 | |
| 117 | | Lioust Marc | 29/04/2014 | VTT Océane | 1999 and before: Elites | |
| 118 | | Lorenzo Lima Blaise | 20/04/2014 | COMITE REGIONAL LIEGE | 1999 and before: Elites | |
| 119 | | Loris Caseau | 16/04/2014 | Fast and Gravity | 2002 - 2003: Youth | |
| 120 | | Luca Lateltin | 30/04/2014 | VTT OCEANE / TEAM MOUMOUNE | 1999 and before: Elites | |
| 121 | | Ludwig Lecrenier | 20/04/2014 | / | 2000 - 2001: Juniors | |
| 122 | | Ludwig Neukart | 21/04/2014 | Flatland DH Racing Team | 1999 and before: Elites | |
| 123 | | Maarten Tyberghein | 22/04/2014 | / | 1988 - 1979: Masters 1 | |
| 124 | | Manu Pascal | 18/04/2014 | / | 1999 and before: Elites | |
| 125 | | Marc Schiltz | 15/04/2014 | Soulrider e.V. | 1988 - 1979: Masters 1 | |
| 126 | | Marc-Antoine Corriette | 18/04/2014 | NRC | 1999 and before: Elites | |
| 127 | | Marcel Kasza | 18/04/2014 | Xrisa | 1999 and before: Elites | |
| 128 | | Margreet Meems | 20/04/2014 | Mikey's Downhill & Enduro team | Women | |
| 129 | | Mario Govers | 17/04/2014 | / | 1988 - 1979: Masters 1 | |
| 130 | | Martin Donat | 05/05/2014 | Mountainbike Rider Magazine Germany | 1988 - 1979: Masters 1 | |
| 131 | | Martin Michaux | 08/05/2014 | DreamTeam | 2002 - 2003: Youth | |
| 132 | | Mathieu Casse | 16/04/2014 | Freeride Mafia DH Team | 1988 - 1979: Masters 1 | |
| 133 | | Matthias Jansen | 16/04/2014 | COMMENCAL Superriders | 1999 and before: Elites | |
| 134 | | Matthieu Becquart | 03/05/2014 | VTT OCEANE | 2000 - 2001: Juniors | - 10 € |
| 135 | | Max Stärk | 16/04/2014 | Fleshair Downhill Racing | 1999 and before: Elites | |
| 136 | | Maxence Magain | 24/04/2014 | Team Alice | 1999 and before: Elites | |
| 137 | | Maxime Andres | 16/04/2014 | Team Freekor | 2000 - 2001: Juniors | |
| 138 | | Maxime Englebert | 20/04/2014 | Luxbikes | 2000 - 2001: Juniors | |
| 139 | | Maxime Fransolet | 17/04/2014 | Xtreme Gravity Team | 1999 and before: Elites | |
| 140 | | Maxime Lequeux | 22/04/2014 | ABLR | 1999 and before: Elites | |
| 141 | | Maxime Madoux | 16/04/2014 | SPORTS CARBONE | 1988 - 1979: Masters 1 | |
| 142 | | Maxime Petit | 20/04/2014 | ABLR | 1999 and before: Elites | |
| 143 | | Maximilian Privik | 15/04/2014 | / | 1999 and before: Elites | |
| 144 | | Mickael Margueritin | 02/05/2014 | / | 1999 and before: Elites | |
| 145 | | Morgan Dupontreue | 02/05/2014 | Swamp Gravity | 1999 and before: Elites | |
| 146 | | Nathan Paye | 08/05/2014 | / | 2000 - 2001: Juniors | |
| 147 | | Nico Simon | 18/04/2014 | DCTEAM - Bike / 100% | 1999 and before: Elites | |
| 148 | | Nicolas Close | 17/04/2014 | 5CREW | 1999 and before: Elites | |
| 149 | | Nicolas Delalandre | 03/05/2014 | Teammendes | 1999 and before: Elites | |
| 150 | | Nicolas Mathieu | 23/04/2014 | DC Team / GT 100% | 1999 and before: Elites | |
| 151 | | Nicolas Sandeyron | 19/04/2014 | Green Master Team | 1978 and before: Masters 2 | |
| 152 | | Oget Ludovic | 21/04/2014 | Dagg racing | 1999 and before: Elites | |
| 153 | | Padoens Arnaud | 25/04/2014 | US Domont | 2004 - 2005: Juvenile | |
| 154 | | Pardoens Thomas | 25/04/2014 | Vélo Tout Terrain Chaumontais | 1999 and before: Elites | |
| 155 | | Pascal Jürges | 20/04/2014 | / | 1999 and before: Elites | |
| 156 | | Patrick Neukirchen | 03/05/2014 | mrc young guns | 1978 and before: Masters 2 | |
| 157 | | Patrick Vondenhoff | 16/04/2014 | / | 1999 and before: Elites | |
| 158 | | Peter Van Heugten | 15/04/2014 | / | 1988 - 1979: Masters 1 | |
| 159 | | Philip Günther | 15/04/2014 | / | | |
| 160 | | Philippe Da Silva | 18/04/2014 | Dagg racing | 1978 and before: Masters 2 | |
| 161 | | Philippe Hebert | 24/04/2014 | Balâtre Crew | 1999 and before: Elites | |
| 162 | | Pierre Becquart | 03/05/2014 | VTT OCEANE | 2000 - 2001: Juniors | |
| 163 | | Pierre-Alexandre Vincent | 29/04/2014 | section hennuyere | 1988 - 1979: Masters 1 | |
| 164 | | Pieter Bronzwaar | 22/04/2014 | / | 1999 and before: Elites | |
| 165 | | Prevost Guillaume | 17/04/2014 | Kenny racing | 1999 and before: Elites | |
| 166 | | Quentin Levielle | 05/05/2014 | / | 1999 and before: Elites | |
| 167 | | Quentin Scailteur | 22/04/2014 | / | 1999 and before: Elites | |
| 168 | | Randy Van Goubergen | 01/05/2014 | swooth mtb shop | 1999 and before: Elites | |
| 169 | | Raphael Robles | 23/04/2014 | / | 1999 and before: Elites | |
| 170 | | Rémy Labeau | 20/04/2014 | / | 2000 - 2001: Juniors | |
| 171 | | Rémy Poignard | 05/05/2014 | Kaskou'Riders | 1999 and before: Elites | |
| 172 | | Renard Korantin | 22/04/2014 | / | 2000 - 2001: Juniors | |
| 173 | | Roba Emilien | 28/04/2014 | / | 2000 - 2001: Juniors | |
| 174 | | Robert Strom | 17/04/2014 | Hutchinson Thirty7even Junior Racing | 2000 - 2001: Juniors | |
| 175 | | Robert Zakrzewski | 17/04/2014 | / | 1988 - 1979: Masters 1 | |
| 176 | | Robin Clermont | 15/04/2014 | / | 1999 and before: Elites | |
| 177 | | Robin Mölders | 15/04/2014 | / | 1988 - 1979: Masters 1 | |
| 178 | | Robin Van Goubergen | 01/05/2014 | / | 1999 and before: Elites | |
| 179 | | Rol Samuel | 01/05/2014 | / | 1999 and before: Elites | |
| 180 | | Roland Benjamin | 18/04/2014 | / | 1999 and before: Elites | |
| 181 | | Roland Horaczek | 15/04/2014 | Gravity Pilots e.V. Team Extra Love | 1988 - 1979: Masters 1 | |
| 182 | | Romain Gilles | 22/04/2014 | DC team | 1999 and before: Elites | |
| 183 | | Romain Lanthermann | 20/04/2014 | MN Bike. VCU schwenheim | 1999 and before: Elites | |
| 184 | | Romain Lempereur | 20/04/2014 | / | 1999 and before: Elites | |
| 185 | | Romain Toussaint | 24/04/2014 | STARTING LINE | 1999 and before: Elites | |
| 186 | | Ronald Vranken | 21/04/2014 | Bike ARENA/mondraker | 1978 and before: Masters 2 | |
| 187 | | Roos Op De Beeck | 17/04/2014 | Swooth MTB Team | Women | |
| 188 | | Roynet Pierre | 06/05/2014 | / | 2000 - 2001: Juniors | |
| 189 | | Sacha Rosmant | 22/04/2014 | DCTeam Nukeproof Stoemp | 1999 and before: Elites | |
| 190 | | Sander Couvent | 25/04/2014 | krank | 1999 and before: Elites | |
| 191 | | Schlisteur Thomas | 23/04/2014 | / | 1999 and before: Elites | |
| 192 | | Schoreel Maxime | 29/04/2014 | / | 1999 and before: Elites | |
| 193 | | Séba Diederich | 08/05/2014 | Cranks n' Chains | 1999 and before: Elites | |
| 194 | | Sébastien Stroobants | 04/05/2014 | / | 1999 and before: Elites | |
| 195 | | Siegmund Dujardin | 28/04/2014 | STARTING LINE | 1999 and before: Elites | |
| 196 | | Simon Braud | 16/04/2014 | SB Racing | 1999 and before: Elites | |
| 197 | | Simon Peterolff | 24/04/2014 | Kenny Equipement | 1999 and before: Elites | |
| 198 | | Stanley Neerinck | 15/04/2014 | Xtreme Gravity | 1978 and before: Masters 2 | |
| 199 | | Stephen Xhaard | 22/04/2014 | les ptits rideurs | 2000 - 2001: Juniors | |
| 200 | | Steven Lemmens | 18/04/2014 | / | 1978 and before: Masters 2 | |
| 201 | | Stijn Van Hoyweghen | 17/04/2014 | Loose Riders | 1999 and before: Elites | |
| 202 | | Suzann Liebert | 15/04/2014 | / | Women | |
| 203 | | Sven-Holger Koczian | 22/04/2014 | 1. MSC WESCHNITZTAL FÜRTH 1952 e.V. ADAC | 1988 - 1979: Masters 1 | |
| 204 | | Teo Bouteloup | 22/04/2014 | jaquie et michel team manager | 2002 - 2003: Youth | |
| 205 | | Theophile Kestler | 25/04/2014 | / | 1999 and before: Elites | |
| 206 | | Thibault Rossi | 29/04/2014 | val de reuil | 1999 and before: Elites | |
| 207 | | Thibaut Maurouard | 01/05/2014 | / | 2000 - 2001: Juniors | |
| 208 | | Thibaut Rosmant | 17/04/2014 | DCTeam | 1999 and before: Elites | |
| 209 | | Thomas Foulon | 20/04/2014 | Freeride Mafia DH Team | 1999 and before: Elites | |
| 210 | | Thomas Lanselle | 20/04/2014 | / | 2000 - 2001: Juniors | |
| 211 | | Thomas Telders | 15/04/2014 | Loose riders | 2002 - 2003: Youth | |
| 212 | | Thomas Vis | 21/04/2014 | Bikenation DH-team | 2000 - 2001: Juniors | |
| 213 | | Thorez Nicolas | 20/04/2014 | Kaskou'Rider | 1999 and before: Elites | |
| 214 | | Tim Drexler | 03/05/2014 | ----- | 1999 and before: Elites | |
| 215 | | Timothée Muller | 22/04/2014 | Team HONEY RACING | 1999 and before: Elites | |
| 216 | | Tristan Defenfe | 27/04/2014 | DC Team | 1999 and before: Elites | |
| 217 | | Uwe Berkenkopf | 03/05/2014 | / | 1978 and before: Masters 2 | |
| 218 | | Valentin Cadel | 02/05/2014 | Dagg Racing | 2000 - 2001: Juniors | |
| 219 | | Valentin Thuillier | 05/05/2014 | / | 2000 - 2001: Juniors | |
| 220 | | Vincent Lanvin | 28/04/2014 | US DOMONT | 1999 and before: Elites | |
| 221 | | Vincent Lazzara | 20/04/2014 | Team Xtreme Gravity | 2002 - 2003: Youth | |
| 222 | | Vincent Lecuit | 17/04/2014 | WOODBIKE TEAM | 1999 and before: Elites | |
| 223 | | Ward De Prins | 16/04/2014 | Loose Riders | 2000 - 2001: Juniors | |
| 224 | | Wesley Ilegems | 17/04/2014 | Loose Riders Belgium / Bike The World Belgium / DirtE19 | 1988 - 1979: Masters 1 | |
| 225 | | Wiart Adrien | 05/05/2014 | / | 1988 - 1979: Masters 1 | |
| 226 | | Wiebe De Prins | 16/04/2014 | KRANK | 1999 and before: Elites | |
| 227 | | Xavier Gillard | 17/04/2014 | / | 1999 and before: Elites | |
| 228 | | Yannik Thomas | 06/05/2014 | Mountainbike Rider Magazine | 1999 and before: Elites | |
| 229 | | Youri Swiecki | 18/04/2014 | / | 1999 and before: Elites | |